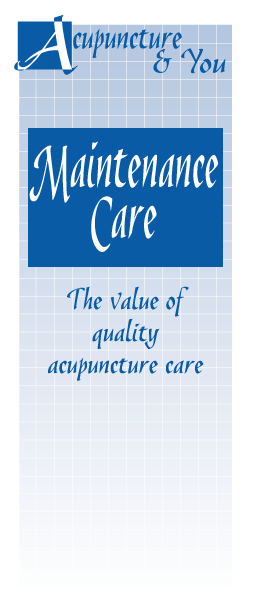 Why Would a Person Need Health Maintenance?
Maintenance care may be made necessary by the stresses of living.

How Does Health Maintenance Work?
It works to remove the cause of problems before symptoms arise or serious conditions show themselves.

When Should You Start?
As soon as corrective care is complete. Regular examinations will determine the need for maintenance care.

Who Needs Health Maintenance?
Everyone who wants the most out of life. Health is vital in order to be happy.

Health Maintenance
Health Maintenance patients receive care at a fixed rate. Your acupuncturist estimates the number of visits you should need per year, usually from four to twelve. Examination costs may be included.

Budget Plans for Estimated Costs
To help you receive maintenance care, your acupuncturist has several budget programs.
If an accident or crisis arises, relief and corrective care becomes necessary; your maintenance program will be temporarily halted until it passes.
If you are unable to complete your yearly health maintenance preventive care program, no matter what the reason, you will be reimbursed for any unused portion of the payments. For example, if your estimated requirement is twenty visits, yet you only receive ten, half your budget amount will be returned to you. You will only be charged for the services you receive.




Health is vital in order to be happy.